Skip to Content
Chiropractic Care in Corona
Chiropractic has been used for thousands of years—the earliest records of chiropractic treatments date back to 2700 BC. Today, chiropractors use a variety of techniques to improve health, mobility, and the body's natural ability to heal and rejuvenate itself. Whether you are seeking chiropractic for mental rejuvenation or pain relief purposes, your chiropractor can help you feel your best. At Rejuvenate Chiropractic Spa, we are pleased to offer comprehensive chiropractic care in addition to acupuncture, massage therapy, reflexology, and physiological therapy in Corona.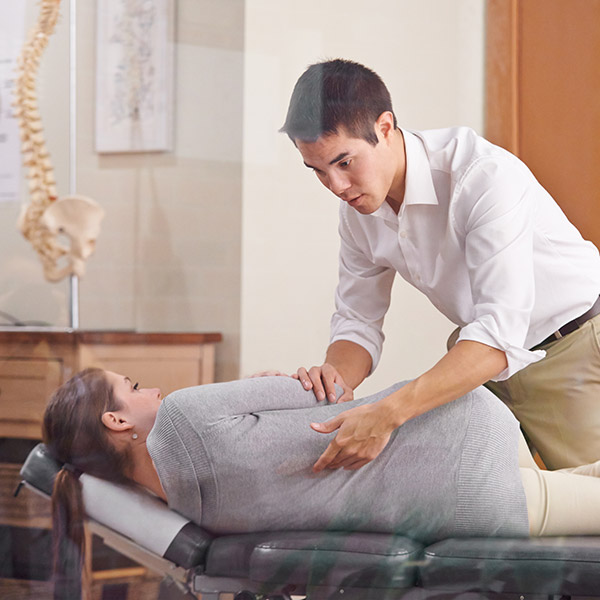 The Basics of Chiropractic Care
Although the concepts behind chiropractic care have been in use since ancient times, modern chiropractic was developed in the late 19th century. Today, the principles of chiropractic care focus on the effects of your nervous and musculoskeletal systems on your overall health. The most common form of chiropractic treatment is spinal manipulation, which may also be called chiropractic adjustment. During spinal manipulation, your chiropractor will apply a controlled force to affected areas of your spine, bringing the entire structure back into healthy alignment. This treatment is extremely effective not only in reducing back pain, but improving mobility, eliminating headaches, and alleviating pain in the extremities as well. Adjustments can also be made on other parts of the body, such as problematic joints in the arms or legs. Other chiropractic treatments include the application of heat or ice, electrical stimulation, physiotherapy, and nutritional counseling.
Tips for Maintaining a Healthy Back
One of the most common reasons to visit a chiropractor is back pain. Maintaining your back with a healthy lifestyle can help to minimize pain and enhance your quality of life. If you'd like to learn more from a chiropractor serving Corona, call Rejuvenate Chiropractic Spa at 951-279-8900.
Be proactive by getting routine chiropractic adjustments every 1-3 months. If you wait until you are in pain, you've waited too long. Think of your spinal health like your dental health and take care of your back before there's a problem or injury.
Maintaining a healthy weight is a key element of maintaining a healthy back. Your spine must support the structure of your body whether you are sitting or standing; reducing the amount of weight your spine carries can thus reduce your risk of injury and pain.
Regular exercises to strengthen your legs and core reduce the load on your back, while exercises that work the muscles of the back provide the spine with added support.
Taking note of your posture and making an effort to use proper techniques when moving or lifting objects can reduce the likelihood of back pain and injuries. If you work at a desk, choose a chair that allows you to sit with your feet flat on the floor and your legs at a 90-degree angle. When lifting or carrying objects, use your legs rather than your back for strength and never carry anything that is too heavy without asking for help.
Corona Area Chiropractic Care: FAQs
Chiropractic care focuses on cultivating total body wellness through balance and care of the musculoskeletal and nervous systems. The chiropractic approach encompasses a variety of treatment methods, including spinal manipulation and chiropractic adjustment, therapeutic massage, physical therapy, and even stress relief techniques to eliminate pain and encourage better physical and mental health. At Rejuvenate Chiropractic Spa, you can connect with an experienced chiropractor serving Corona to focus on your individual needs to achieve greater wellness and improved quality of life.
How Does Chiropractic Work?
Chiropractic care takes advantage of the body's natural healing abilities by ensuring the musculoskeletal system is in proper alignment. Injuries and illnesses can cause imbalances that affect the immune system and prevent full recovery. By correcting issues such as misaligned, stiff, or weakened joints in the spine and throughout the body, chiropractic manipulation sets the stage for your body to heal and balance itself.
---
Is Chiropractic Adjustment Uncomfortable?
Many patients are concerned that chiropractic manipulation may feel uncomfortable or even painful. However, the truth is that chiropractic treatments are completely comfortable; furthermore, chiropractic adjustment is often accompanied by immediate pain relief. In some cases, you may feel slight aching or soreness in the treated area, which should resolve within 24-48 hours.
---
What Conditions Can Chiropractic Treat?
Chiropractic treatment solutions can be used to address a wide variety of conditions. Pain in the back, neck, and shoulders is the most common condition treated by chiropractors. However, chiropractic is also an effective treatment option for headaches, joint pain including arthritis and carpal tunnel syndrome, jaw pain, sciatica, injuries due to falls, sports, auto accidents, and other trauma, and any chronic conditions that affect the muscles, bones, joints, or nerves.
---
Do I Need a Medical Referral to Receive Chiropractic Care?
Anyone who wishes to seek the services of a chiropractor can schedule an appointment. During your first visit, your chiropractor will perform a complete evaluation of your health, as well as discuss the reasons for your visit and develop a personalized treatment plan. However, in some cases, your medical insurance may require a referral if you wish to have your chiropractic expenses covered.
---
Is Chiropractic Care Safe?
Chiropractic adjustment is a safe and effective treatment option with very little associated risk. If you are concerned about the safety of chiropractic care, discussing your questions and medical history with your chiropractor will ensure he follows a treatment plan that is comfortable for you.
Are you ready to discover the benefits of chiropractic care for yourself? You can reach Rejuvenate Chiropractic Spa by calling 951-279-8900 to schedule an appointment for chiropractic adjustment, massage therapy, or acupuncture near Corona.
Relax and Focus on Your Health at Our Spa