Skip to Content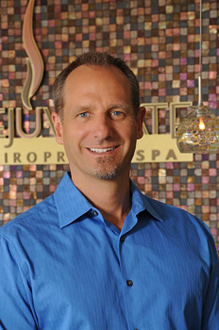 Dr. Brian Heller
Dr. Brian Heller has been treating patients in Orange County since 1996. He uses safe, natural remedies to help his patients get out of pain as well as promoting a natural state of well being. Dr. Heller grew up in Costa Mesa, California where he attended Bear Street Elementary School, Davis Middle School, and Costa Mesa High School. Dr. Heller was an Athlete and lettered in both football and track at Costa Mesa High School as well as graduating with honors.
Dr. Heller then continued his education at Pacific University outside Portland Oregon, where he continued in football and track before transferring to San Diego State University where he earned his Bachelor of Science in Biology.
After dabbling in computer programming, where he was the lead programmer for three years, Dr. Heller finally returned to his passion and started his education at Los Angeles College of Chiropractic in the Winter of 1993. His tenure there included extensive studies in anatomy, physiology as well as discovering the amazing potential of the human body and its ability to heal itself when allowed to do so without interference.
Dr. Heller graduated with honors in the summer of 1996 followed by a two-year associateship and eventually opened his private practice in July of 1998.
Since graduating from Chiropractic school Dr. Heller has privately studied other forms of holistic health care, manual therapies as well as becoming a certified golf injury specialist. Dr. Heller prides himself on running a family practice and loves treating patients from all age groups. His patients range from 5 weeks to 80 years of age.
When not treating patients, Dr. Heller enjoys spending time with his family. Along with his lovely wife Azure, they have raised three beautiful children, Marissa, Brendon, and Angelene. He attributes the reason that his family hasn't needed antibiotics to the fact that they get "regular chiropractic adjustments." The #1 goal of Dr. Heller is to educate his patients on how they can lead healthier lives and truly believes that "An ounce of prevention is worth a pound of cure".
Relax and Focus on Your Health at Our Spa