Skip to Content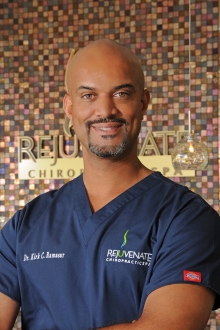 Dr. Kirk Ramasar
Rejuvenate Founder, Dr. Kirk C. Ramasar, has over 18 years' experience in private practice. "Dr. Kirk" is a native of Norco/Corona, the son of local entrepreneurs Oscar and Gigi Ramasar. His desire for a career in medicine grew from his experiences working in their retirement homes and successful nursing registry. Kirk was a celebrated basketball player and honors student at Notre Dame High School in Riverside before earning his Bachelor of Science degree in Pre-Med/Biology at the University of California, Riverside.
Because of the growing demand for natural alternative health care and holistic treatments, he then chose to become a chiropractor. Dr. Ramasar attended the Cleveland Chiropractic College in Los Angeles, one of the most challenging and best in the world of chiropractic for teaching hands-on, clinical skills. He graduated Cum Laude as a Doctor of Chiropractic. An avid golfer, he has since earned a post-graduate certification as a Chiropractic Sports Physician with a specialty in Golf Injury and Rehabilitation.
Treating everyone from athletes to weekend warriors, business professionals, industrial workers, and stay-at-home moms, Dr. Kirk also has extensive knowledge in the treatment and management of Personal Injury and Worker's Comp cases. All of his cases are handled in a multi-disciplinary fashion including neurologic, orthopedic, and diagnostic testing.
Dr. Kirk has watched the Corona area grow from the orange groves of his childhood to what it has become today. He understands the needs and trends of its local residents, and developed Rejuvenate Chiropractic Spa as a center geared towards the suburban Corona family. The stresses of work, commuting, computers, deadlines and poor posture have an extremely deleterious effect on the body. Rejuvenate Chiropractic Spa is dedicated to helping patient's bodies cope better with these stresses, coaching them towards a healthier lifestyle, and allowing them to heal in an environment that relaxes and soothes the mind, body and soul.
Outside of work, Dr. Kirk enjoys spending time with his wife Kirsten and kids, KJ (11) and Kylie (8). He is a surprisingly talented DJ – if you're lucky you may hear him streaming a set live on social media. Nothing beats a beach vacation to some place tropical, as long as there are golf courses nearby. A golf trip to Pebble Beach is still on his bucket list.
Relax and Focus on Your Health at Our Spa